Cree Reaches LED Industry Milestone with 200 Lumen-Per-Watt LED
DURHAM, N.C. – Two years after breaking the 200 lumens-per-watt (LPW) R&D efficacy barrier, Cree, Inc. (Nasdaq: CREE) delivers another industry first with the introduction of the Cree XLamp® MK-R LEDs. The new MK-R LEDs leverage the SC³ Technology™ next-generation LED platform to deliver up to 200 lumens-per-watt (at 1 W, 25°C) LEDs.
The new MK-R LEDs make the next generation of 100+ lumens-per-watt system possible for high-lumen applications, including outdoor and indoor directional applications, such as halogen replacement lamps. MK-R LEDs are available in EasyWhite® color temperatures, providing the LED industry's best color consistency for designs that use only one LED. For systems that use multiple LEDs, MK-R enables manufacturers to use fewer LEDs while still maintaining light output and quality, which translates to lower system cost.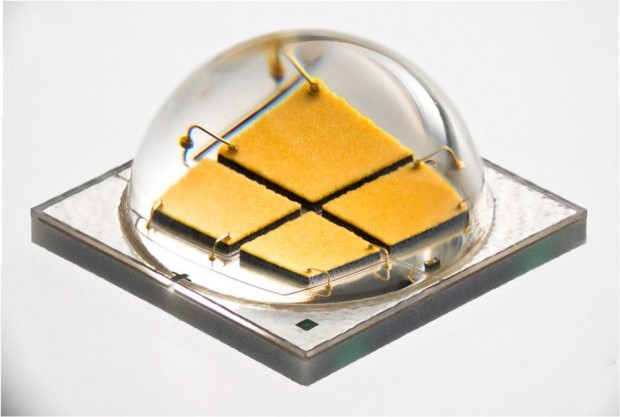 Cree MK-R LED
"It's amazing that Cree is able to achieve a 200 lumens-per-watt LED so quickly," said Nicola Vendrame, CEO, Linea Light group. "The high efficacy of the MK-R LED means that we can drive the LED harder for more light output without creating heat issues. In addition, the MK-R LED has the right combination of size, color consistency and optical control to enable the next generation of performance in our indoor directional luminaires."
"Cree's relentless innovation continues to push the boundaries of what is possible with LED lighting," said John Edmond, Cree co-founder and director of advanced optoelectronics. "The MK-R LED is another game-changer for the industry. An LED with this level of performance can accelerate the development of high-output lighting applications and could enable applications we haven't even thought of yet."
The MK-R LED features a 7 mm x 7 mm footprint with a 6 mm optical source and delivers up to 1600 lumens at 15 W, 85°C. Characterized at 85°C, the MK-R component is available in 2700 K to 7000 K color temperatures and offers minimum CRI options of 70, 80 and 90 (at selected color temperatures). The MK-R LED is the ninth product built on Cree's SC³ Technology platform. The innovative platform leverages Cree's advanced silicon-carbide technology, features advancements in LED chip architecture and phosphor and boasts a new package design to deliver the most advanced LED components in the industry.