Daimler to introduce luxury car lit entirely with LEDs
The new Mercedes-Benz S-Class will be the first car to be fitted completely with LEDs as standard, while optional extras will include adaptive LED headlamps that adjust according to other road users.
Next year, the new S-Class from Mercedes-Benz will become the first vehicle in the world that will not use a single light bulb in standard versions, says manufacturer Daimler AG. Instead, the car will use over 190 LEDs that will illuminate the road ahead, as well as the vehicle's exterior, interior and luggage compartment.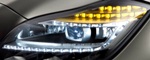 The company says that it is making a complete switch to LED technology around 100 years after the introduction of electric lighting in motor vehicles.Even the entry-level model in the new luxury saloon range will come with all-LED lighting. A number of intelligent supplementary functions including Adaptive Highbeam Assist PLUS can be added as options.
In addition to adaptive LED headlamps, the new S-Class will utilize a system to reduce the intensity of the LED brake lights at night-time or while waiting at traffic lights.
Of coursea, Daimler's rivals have also been hard at work introducing LED lighting into their vehicles. Audi has offered LED headlamps on its R8 for several years, and ran a TV ad during the 2012 Super Bowl that specifically highlighted the benefits of LED headlamps (unless you are a vampire). What's more, there is an excellent Audi website focused on LED lighting and its applications in different Audi models.
Energy efficiency
Energy efficiency is a key factor for Daimler. "With its long life and a colour temperature resembling daylight, LED technology already had a great deal in its favor," said Thomas Weber, member of the Daimler board responsible for group research and Head of Mercedes-Benz Cars Development. "Now, though, our engineers have made great advances where energy efficiency is concerned too, reducing power consumption to a quarter of that of conventional headlamps."
The new LED low-beam headlamps require 34W per vehicle to produce the same light output, compared with 120W for halogen and 84W for xenon light sources.
This translates into a saving of up to 0.05 litres of fuel per 100 km travelled, or 2.1g of CO2 per km, compared to a vehicle fitted with halogen low-beam headlamps.
Daimler hasn't provided many details of its LED headlamps except to say that they contain "new, high-performance single-chip LED diodes" and built using a "newly-developed projector module in the headlamp unit, in which deflected beams of light are reflected back again."
Adaptive Highbeam Assist PLUS
The Adaptive Highbeam Assist PLUS allows the high-beam headlamps to be kept on permanently while driving by masking out other road users detected in the beams' cone of light. If the camera-based system registers either oncoming traffic or vehicles ahead, it will adapt the high-beam light distribution according to the specific situation.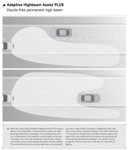 Consequently, the driver can simply leave the high-beam headlamps on at all times and use their full range without irritating or even endangering other road users. There is no need to switch them on and off manually.
The system's camera includes an image-recognition algorithm that can actuate a mechanism in the headlamp module. This masks a portion of the LED headlamp's high-beam cone of light to prevent oncoming drivers from being dazzled.
If road users are detected outside the area that can be masked – for instance when cornering with multiple vehicles in the headlamps' beams – the system will switch to the familiar system of headlamp range control using the low-beam headlamps.
Tail lights with automatic intensity control
Mercedes-Benz has claimed another world first by developing LED tail-lights with multi-level functionality, meaning that the brake lights and indicators are operated at varying intensities depending on the current driving state and ambient brightness levels (day/night).
If the Mercedes driver presses the brake pedal while stopped at traffic lights, for instance, the brightness of the brake lights will be automatically dimmed to avoid dazzling anyone behind. The light distribution is broadened to ensure the lights do not become too dim and continue to fulfil all legal requirements.
Night View Assist PLUS
The new S-Class will also offer an advanced night-vision system that can detect pedestrians and animals. In unlit areas, the instrument cluster display is switched from the speedometer to a night-view image in which pedestrians or animals are highlighted in color.
The system uses two separate infrared light sources in the headlamp assemblies to light up the area in front of the vehicle, in combination with a near-infrared camera positioned behind the windscreen next to the rear-view mirror.
About the Author
Tim Whitaker is an Editorial Consultant with LEDs Magazine.