Auto LED replacement bulb 7V-30V / 1W / BA9S
DS730BA9S-1WCN
Specifications
1. Total Power:   1W
2. LED Power:    3W
3. Input Volt:     7-30V DC (Alternative: 1-9V)
4. Intensity:      100-120 LM
5. Light Angle:   120 
6. LED Brand:    Made-in-china(Alternative:CREE, LUXEON)
7. Color Temp:   Warm White (Alternative: Pure White, Cool White )
8. Lamp holder:  focus on maglte flashlight
9. Lifespan:      >50000 hrs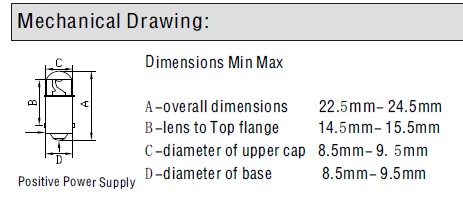 Description
1. All of our LED bulbs Inset a high-efficient constant current LED driver
The LED driver enables the bulb to work under a stable current, so as to decrease the LED's lumens depreciation and extending its lifespan.
2. Auto temperature control
The temperature of bulb can be automatically controlled by the built-in LED driver. When the bulb's heat increases to some degree, the circuit will adjust the highest temperature to a safety scope.
3. Reverse Polarity Protection Function
The function is for preventing the bulb was burnt when the power supply is connected reversely.