For long-distance aiming & searching
Model:  JD15  /  JD15L
Light Source: 10W white laser

Illuminance at 1000 meters 0.25 lux

Luminous Flux 550 LM

Descriptions
The white laser flashlight, using only 10W small power white laser module as light source. The distance of light searching reaches 1,000 meters. The flashlight can be mounted on Gun or Rifle for long-distance aiming, and rotating its head can zoom the light into spot or floodlighting. The dual-purpose is not available for other dedicated aiming torches or lighting torches. This white laser flashlight is a complex technology combination which usesblue laser as the basic, filtered, diffused and reflected through the optical processing, then converts into white light. So the laser is not dangerous to the human eye. And the white beam given off is harmless to the wildlife, such as the laser head-light. Meanwhile, the white laser keeps the penetration, and is suitable for long distance lighting. However, it is common sense to note that all the strong light should avoid direct to human eyes (which would be dangerous, as we were all warned when those laser pens became all the rage).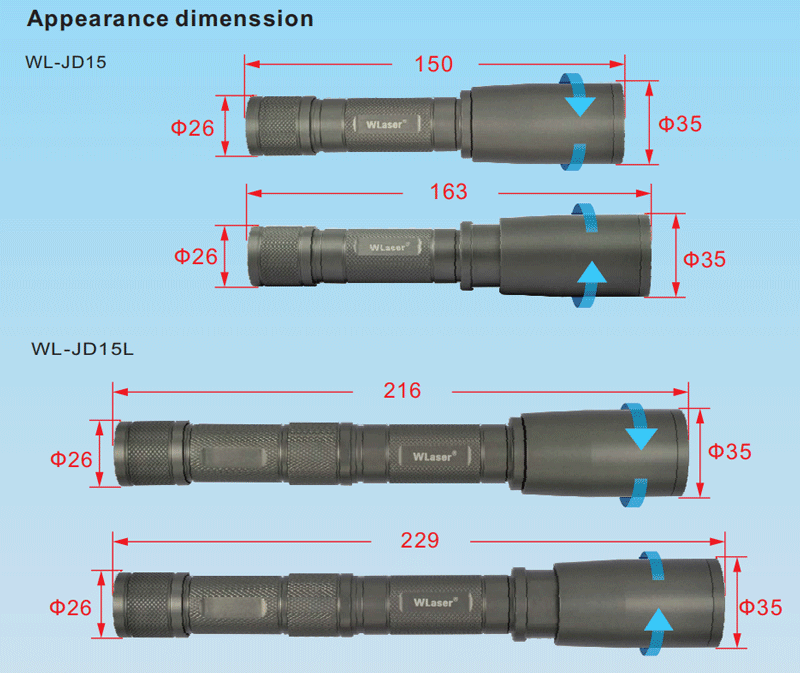 Features
With a laser light source, the light penetration is better and the illuminance distance is farther. The power of the flashlight is only 10W, but the illuminance distance can up to 1,000 meters, which is difficult to achieve by other light source. Due to the small power, it can less power consumption and longer battery run time. Due to the small power, it can be designed as a small-sized flashlight for easy carrying. With standard battery The model WL-JD15 uses one 18650 battery, it is convenient for using on the Gun. The model WL-JD15L uses two cells of 18650 batteries, it is convenient for using on the Rifle. Rotating the head of the flashlight, the viewing angle of light can be zoom-able
from 1 to 30 degree for long-range aiming, or for lighting searching. There is a waterproof design for outdoor applications. It is easy to replace the battery for outdoor continuously usage. Three modes: Super bright, Energy-saving bright, Strobe. Applicable to police, soldier and hunting, for anyone who required portable, long-range aiming and searching.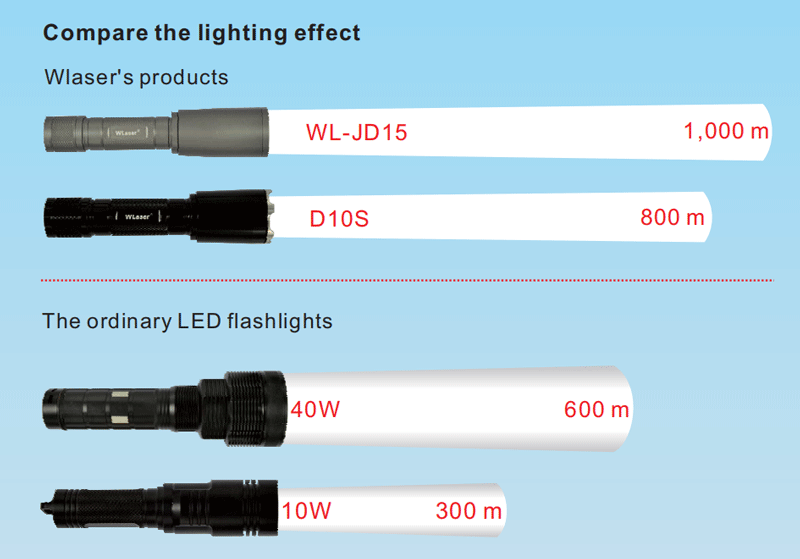 Characteristic
Characteristics
Typical
Unit
Power consumption

10
W
Light Source

Laser

White laser
LED Luminous Flux

550
Lm
Illuminance at 5 meters

18000
Lux
Illuminance at 1000 meters
0.25

Lux
Run Time - Super bright
90 / 180

Minutes
Run Time - Eco bright

480 / 960

Minutes
Run Time - Strobe

45 / 90

Minutes
Battery Type

18650
Lithium
Battery Quantity

1 cell
2 cells
(WL-JD15)
(WL-JD15L)

Batteries Included

No
Viewing angle(zoom-able)

1°- 30°
No
Working Conditions Temperature

-25℃ - +60℃
mm

Dimensions
152 X 35 X 26
216 X 35 X 26

mm (WL-JD15)
mm (WL-JD15L)
Net weight

140
165
g (WL-JD15)
g (WL-JD15L)
Notes
When the flashlight is not in use, remove the battery and store it separately to avoidcorrosion and shortening its service life.
Do not disassemble the flashlight. Or some damages will be caused, and the flashlightcan not be used normally.
All super bright light must be avoided shooting at eyes directly, it might cause a shortblind-sight or damage of the eyes.
If the flashlight is not used for a long time, its battery is recommended to charge everythree months.
Apply a little lubricant to the screw and O-rings when you can not screw the tail cap smoothl.
Before diving, please check the sealing rings are perfect. If they are damaged, please change them in time,and screw the tail cap tightly by a rod-shaped tool.
Appearance Colour
Black or Yellow
Optional accessories
Glass breaker
Packaging
In order to protect the environment, we suggest reducing the use of plastic and paper packaging materials, and avoiding excessive
packaging. However, for a commercial promotion, special packaging can also be provided for customers.