6SW white laser tactical flashlight
6SW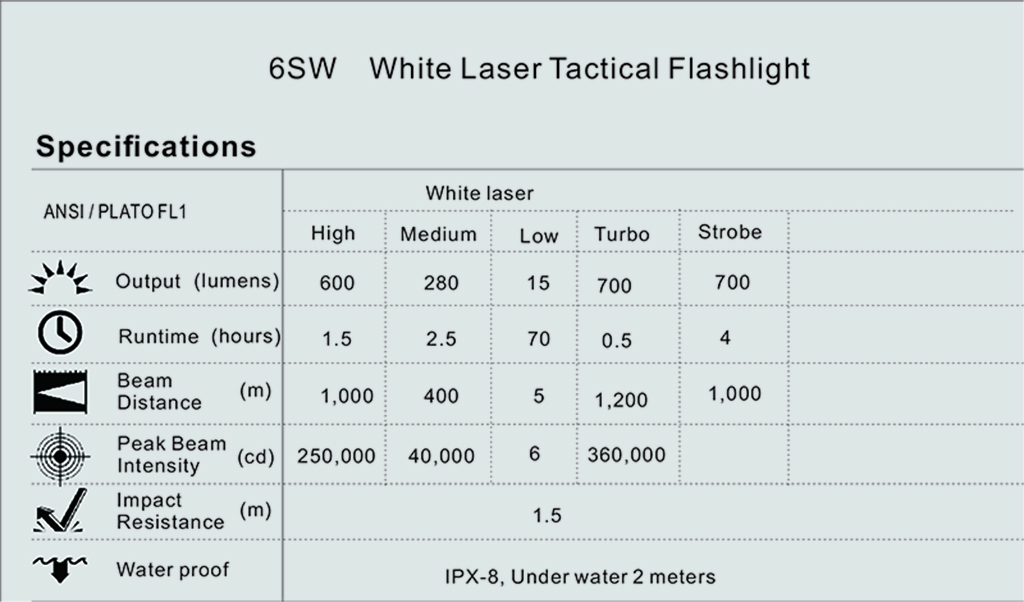 Battery: 18650 lithium-ion
Size: 6.29'' x 1.37'' x 0.93'' (160 x 35 x 23.5 mm)
165 grams (excluding batteries)
Color: Black or Desert Tan
Descriptions
The 6SW is a white laser output tactical flashlight , the perfect tactical light for military and police and
aiming users.
Once the ring has been set on White, partially press or click the tail cap switch, which is shrouded
to prevent accidental activation. For high output, return to off, then press or click again for medium
output, then to low, but click the switch twice within 2 seconds for turbo output. If set on S, for Strobe
output.
The white laser for long distance search, while it is zooming in, the white beam deliver to 1,000 meters.
The difference between white laser and LED, the advantages of white laser is smaller power
consumption, lower lumen, but the light reaches greater distance.
The 6SW runs on a single recharge-able battery of 18650 lithium-ion, and no need to take it out for
charging, just use the accessory , MUSB2, plug into a USB Port.
Assembled as a weapon- light, use the accessory, MSW2, for a remote control
Made of durable airspace-grade aluminum, with Mil-Spec type III hard-anodized for extreme
durability
Installed on picatinny rail with 1inch ( 25.4mm) scope mount ring.