Photo-flood lamp
Browse times:699 Categotiesother
Model:SY50W 
Current Source:AC100-240V,50-60Hz
Current Power:80W
Light Source:50W LED
CRI:Ra≥95
Color Temperature:5600k
Illuminance:209 LUX (5 meters)
Light Conditioning Method: DMX512  Button light conditioning mode, master-slave control
Light Conditioning Range:0-100%
Color& Material Quality:Black, Aluminum radiator
Pitch Angle Locking Adjustment:Maximum 360 °(no shading plate)
Maximum 270 ° (using shading plate)
Storage conditions: Humidity 30%-95%
Temperature -5 ℃ ~ 50 ℃
Conditions of Use: Humidity 30% -95% (no dew)
Temperature -10 ℃ ~ 40 ℃
Dimension: 271 * 127 * 323 mm
Net weight: 2.8 Kg
Photo-flood lamp  
  Application
      Photography lights are widely used in fill flash of photography, stage lighting, fill flash of filming, headlight conversion of vehicles, flash lighting on digital video and other occasions which need to restore the true colors.
    Product description
    1.The LED light source is specially customized for photography, with high Color Rending Index, Ra>=95, stronger and more real color restoration;
    2.The LED light source is specially customized for photography, accurate color temperature 5600K;
    3.Equipped with black four light barriers, can adjust the range of light irradiation;
    4.Can 360-degree free adjust the angle of light according to the filming requirements;
    5.Using DMX512 for remote control and central lighting management;
    6.Excellent aluminum radiator designing, built-in fans for convection cooling, the LED works at a low temperature, and the service life of the product is longer;
    7.Using fast noise-free fans, ensure the excellent heat dissipation and no noise to affect the photography effect.
        A Color Rendition Index means the measurement of coincidence degree of an object's color, when it is exposed under a light source and the standard light source (Generally, sunlight is regard as the standard light source). In other words, it's the degree of the verisimilitude of a color.
The color rendering index has 15 kinds of colors. Color names are as follows: R1, grayish red; R2, dark grayish yellow;R3,saturated yellow-green;R4,medium yellowish green;R5,light blue green;R6,light blue;R7,lavender blue;R8,reddish purple;R9,saturated red;R10,saturated yellow;R11,saturated green;R12,saturated blue; R13,white skin color; R14,leaves green;R15,yellow skin color. Take the first 8 kinds of common colors of the average color rendering index, recorded as Ra, representing the color rendering property of light source.
This system test by medium standard color swatch of 8 kinds of saturations. Under the testing light source, compare the deviation degree of the 8 saturations in the same color temperature to measure the CRI of the light source. Averaging the deviation value Ra20-100 (100 is the highest rate). When the average chromatic aberration is bigger, the value of Ra will be lower,and the color rendering ability of the light source to this color will be also decreased. The coefficient of CRI is still a general method on defining the color rendering ability of the light source currently. The light source whose Ra is lower than 20 cannot be applied to ordinary purpose.
    Index(Ra)    Degree            Rendering Ability         Application
    90-100             1A                    Good                          which need the comparison of colors      
    80-89               1B                                                       which need the correct judgement of colors 
    60-79               2                      Normal                        which need medium CRI                   
    40-59               3                                                          with low demand of CRI and small and color difference
    20-39               4                      Poor                            which have no need on CRI      
Diagram of Color temperature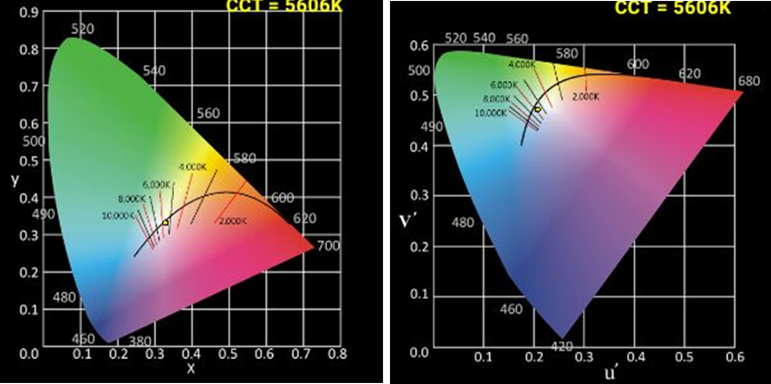 Color Code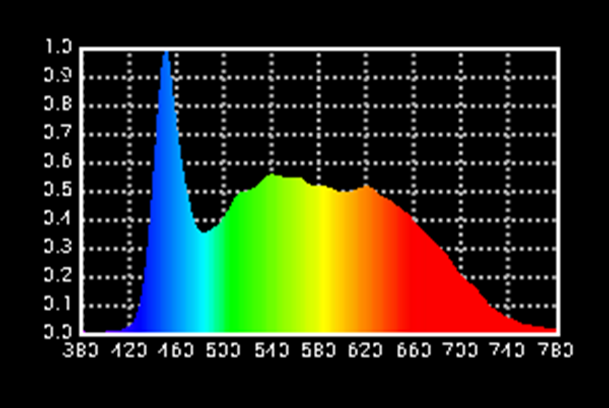 Spectrogram