Screw base LED Conversion Bulb 1V-9V / 1W / E10
DS109L-1WCN75
Features
1 Watt LED

Bright White Light

E10 Base

Works with 1-6 cell Flashlights

Handle between 1 to 9 DC Volts

50,000 Hour LED Life

Extends Battery Life

Shock Resistant

Operating temperature: -30 to +60℃

Storage temperature: -40 to +85℃

Humidity (Non-Condensing): 5% to 95%
Descriptions
LED flashlight bulbs were designed by Deshun in 2004. These bulbs were all built-in a high efficiency LED driver, which makes the bulb used in the wide-range voltage. For example, using in 2.2V~12V, 1V~9V, 3.2V~9V or 6V~30V, LED flashlight bulbs will work well and be not burnt. As the 1V~9V LED flashlight bulb, it can quickly convert any C and D, 2-6 cells flashlight with PR style flange bulb from the standard incandescent to a bright white long lasting LED flashlight bulb.
Using a LED flashlight bulb for your flashlight, it is as simple as replacing the original incandescent bulb and also easy to replace the bulb with the light of all kinds of color like red, blue, green, UV and IR. 
LED Flashlight bulbs can help you save money on batteries and replacement cost. It uses a lot less power allowing your batteries to last longer. Also, the LED flashlight bulbs last longer than original incandescent bulbs, meaning you won't have to replace your new LED flashlight bulb as often as you did with the standard one, and they are much brighter than any standard bulb.
These LED flashlight bulbs provide a nice smooth beam pattern with a great balance between throw and coverage, and you won't lose your flood to spot focus with your flashlight.
Two optional size for your choice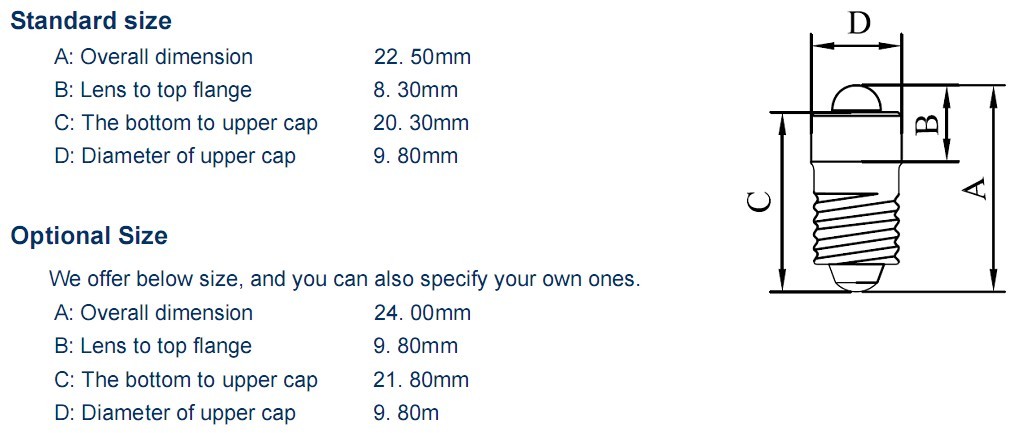 Model No. 

Input
Voltage

LED
Power

LED
Brand

Brightness

Beam
Angle

Emitting
Color

Bulb
Base

DS109L-1WCN75-W

1~9V

1W

CN

>80LM

120 o

Warm White
(2800~3500K)

E10 (Screw-in)

DS109L-1WCN75-P

1~9V

1W

CN

>90LM

120o

Pure White
(6000~6500K)

E10(Screw-in)

DS109L-1WCN75-C

1~9V

1W

CN

>90LM

120o

Cool White
(7000~8000K)

E10(Screw-in)

DS109L-1WCN-R

1~9V

1W

CN

35~45LM

110o

Red

E10(Screw-in)

DS109L-1WCN-G

1~9V

1W

CN

35~45LM

110o

Blue

E10(Screw-in))

DS109L-1WCN-B

1~9V

1W

CN

35~45LM

110o

Green

E10(Screw-in)